tonight, a neighbor i had done more things for then i can count, brought over a bag of clothes for me. she thought i might be able to wear some, she knew i could felt some, and thought maybe audrey would want some for dress up. BUT along with the clothes was a knee length vintage mink coat!! i told her i didnt think i could take it, and that i wouldnt wear it, that fur wasnt my thing. but she insisted i take it and that if i didnt want, that i should take it to the vintage shop i go to! after a quick search online the coat is worth $300-$400! its unbelievable!! im not sure yet what i'll do with it. im not sure if malena wil take it since its the end of the winter season, and i could try to sell it myself on etsy. i'll see.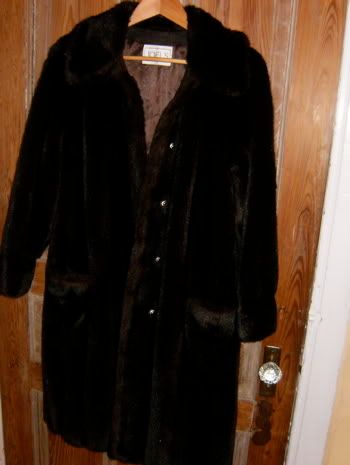 so tomorrow- surgery isnt until 10!! :(
every time i try to eat i get too nervous and lose my appetite- but of course nothing to eat tonight after midnight until after surgery.
and after surgery i have to hang around the surgery center for 3-4 hours :P holy cow!! so im bringing some knitting & a book. im also hoping there will a be a TV.
i'm sure everything will go well and thank you for all the well wishes!!!